Rahul Beri
Hiring qualified teachers is the most daunting task as it is directly related to providing the best to children. Reports suggest 87% of school administrators find hiring and retaining the best educators the most challenging.
A job like Teaching in early childhood education involves being patient and creative. Staying with children for long hours can be draining. One has to be well equipped with all necessary skills and training to meet the demands of this daunting task.
After all the qualifications of teachers directly affect the performance of children: hence the reputation of the school as well.
A new study shows that teacher retention is yet another biggest hindrance in providing the best to children. School administrations found it tough to maintain quality learning with such issues.
Now, hiring the best teachers becomes difficult with such ongoing issues. However, experts suggest following best practices will help you to hire the best teachers for quality education:
1.  Creating a job posting that clearly executes your company culture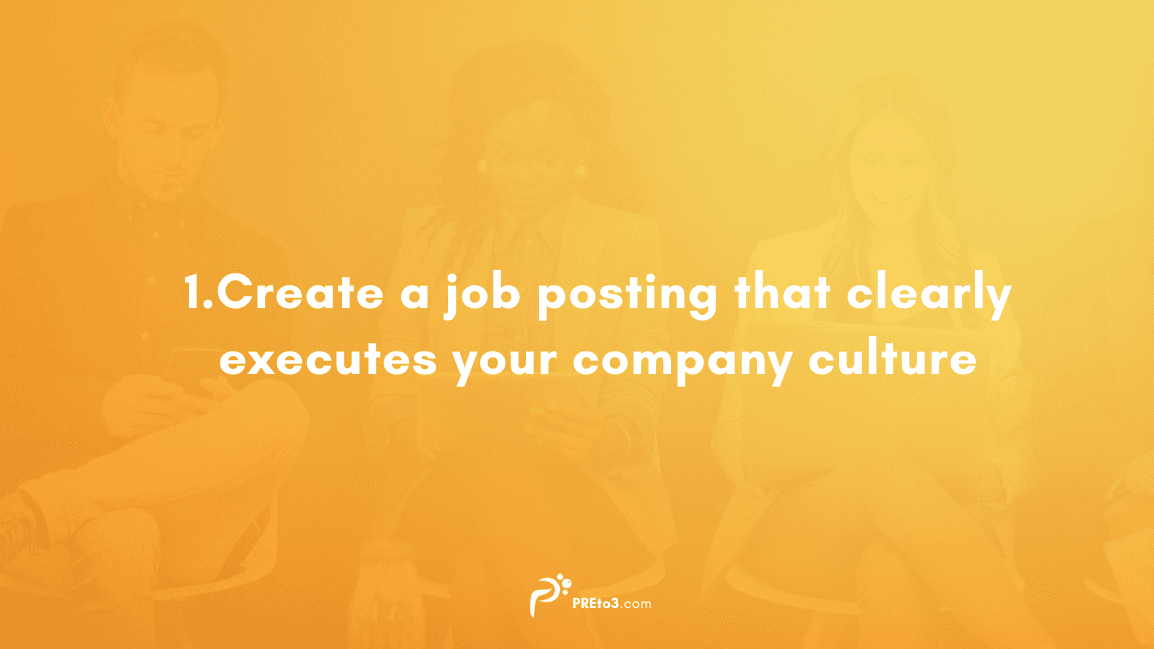 The job posting is the first crucial step in attracting the best employees to your organization. Clarity and clear communication are the topmost things you should be aware of while posting job advertisements. It will help you filter out the least interested candidates, Communicate transparently with the candidates and Set your expectations loud and clear.
Reports suggest Qualified and willing full candidates seek job advertisements that have no vague details. Job seekers want to know details like – Your company profile, your mission, pay scale, maximum qualifications and experience you are seeking, Career development opportunities, the added perks, and benefits.
Let the candidates know clearly why choosing your school would be best for them. Always communicate clearly. You will save both the candidate's and your time as well.
The site where you would be posting your job advertisement is yet another important factor to consider. Popular sites like SchoolSpring and TeachingJobs are best to recruit qualified educators.
2.  Conducting the personal interview round
Childcare experts suggest that it is important to put your eligible candidates through pre-screening rounds before conducting the personal interview. A telephonic interview and a formal group interview will help you observe the eligible candidates' work ethics.
For the final round of the interview, you can make your candidates go through the demo class. The demo class will help you to observe how good the teachers are with children, how they interact with them or connect with them. The final round is crucial to decide whether your chosen can handle the real classroom setting with children.
3.  Offering the right kind of benefits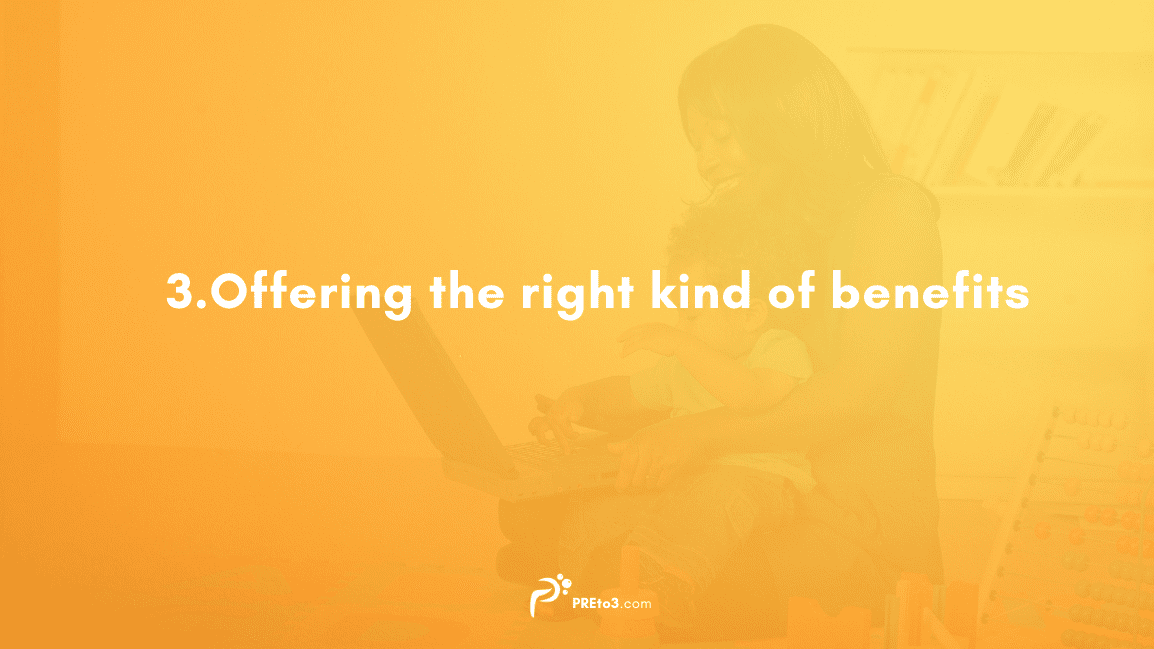 Have you ever wondered why companies like Google and Facebook are successful in attracting the best talents?  The benefits they offer to their employees are the answer.
Health Insurance, Career development opportunities, Maternity and Paternity leaves, bonuses and allowances, family holidays are covered by such companies for their employees. Of course, that helps to create a desirable environment to work in.
If you seek to hire the best educators, make sure you are offering them the right kind of benefits. Let your candidates know -how you would be supporting them for their career growth.
Remember you are selling yourself as a brand so that the capable ones can buy you. Be smart and tactful in doing so, and you will be able to recruit the right people for your company efficiently!
4.  Conduct a reference program
Taking reference from your existing employees help you to hire teachers that understand your organization culture. Research suggests that employees hired through a reference program are likely to stay longer compared to traditional hires. Does that sound like a quality hire?
You can also ask your ex-employees for referrals. In fact, they are the best person to advise you on the quality hire. Your ex-employees, as are already familiar with your organization's culture and practices of your organization can suggest to you the eligible teachers for the role.
5.  Networking with other childcare providers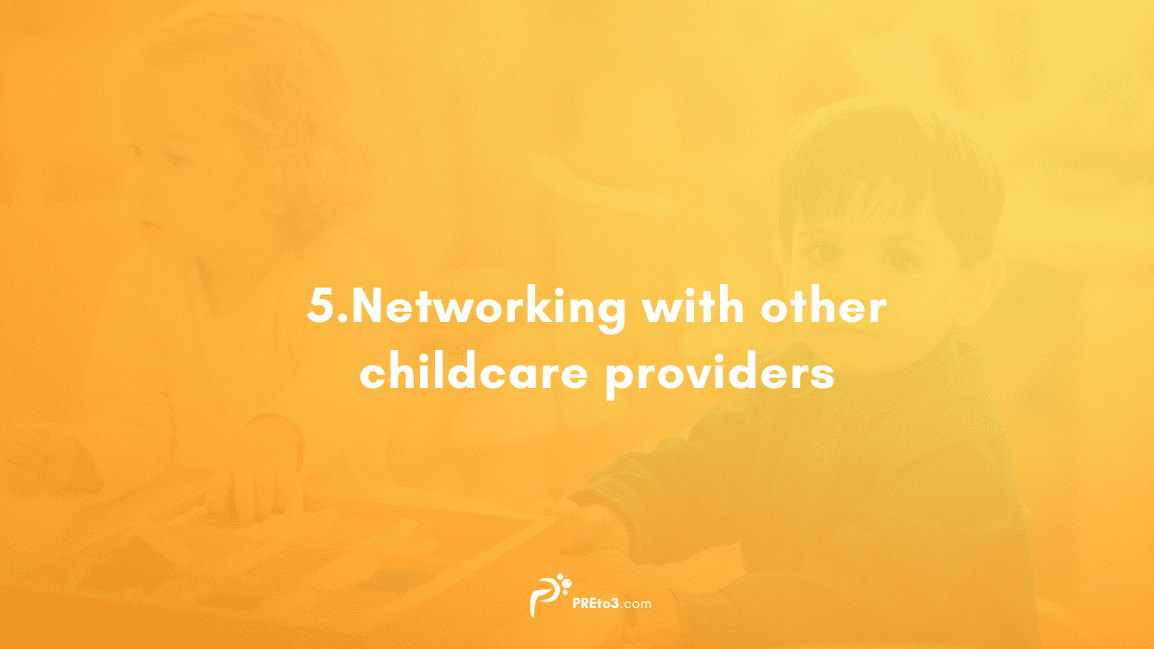 Networking with other preschool or daycare providers can be helpful to find eligible childcare educators. They might refer you, candidates, that are the perfect fit for your school.
Data suggests that around 34% of childcare providers network with their peers for quality childcare hiring. If you are a member of any social media childcare group, you can use that platform to ask your folks for referrals.
6.  Educational qualifications and associate degree
Working in early childcare education requires teachers to be double equipped with both academic and social skills. Of course, handling young children is not an easy task. To ensure the best for children, you need to check the candidate's educational background.
Do they have the required qualifications and training in early childhood education? Do they have enough years of experience in teaching children? What are their thoughts on early childhood education- These are all the basic questions you need to check with the desired candidates.
7.  Offer career development opportunities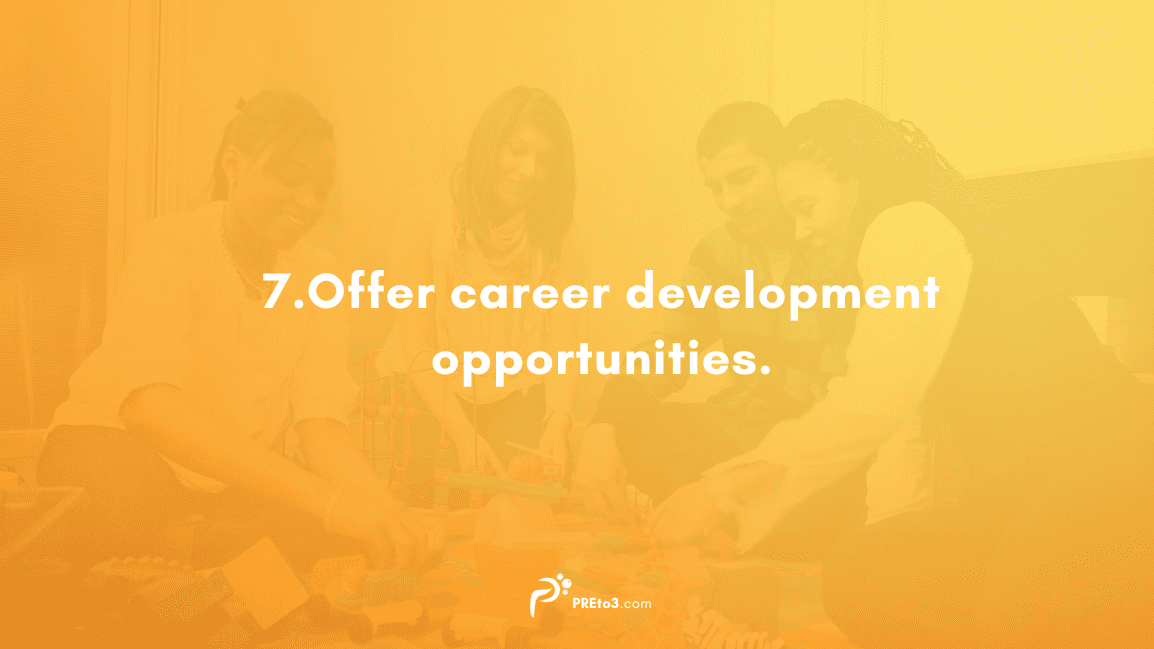 The right kind of candidates always seeks growth opportunities in any organization. Career development opportunities will help you to retain your best educators as well. If you are running a daycare or a kindergarten, including interval training programs for the teachers will help them grow in their skills. It will also help the teachers to cut the stagnate work feeling.
Research suggests that employees tend to perform better with better career development opportunities. 71% of them feel motivated at their work with the growth opportunities. Training is not enough for your teachers given that they are working with young children.  Timely assessment of workloads and maintaining a healthy working environment are equally important.
8.  Access the candidate's work philosophy
While interviewing teachers, accessing their work philosophy is utmost important. What do they think of childhood education? What makes them choose to work with children? What growth opportunities do they seek in the childcare industry? Asking these questions will help you to access whether the teachers that you are considering for your childcare center are worthy or not.
Author and the founder of Hopping In, a childcare tool that helps parents and childcare providers says – "Accessing your candidate's work philosophy or trying to know in deeper why they have chosen childcare industry really helps you to choose the best childcare educators.
9.  Access the strengths of your candidate
Teachers working in daycare, preschools, and Kindergarten have to spend their maximum time with young children. Working with young children requires teachers to be physically, mentally, and emotionally active. They need to be psychologically prepared to handle situations that might be overwhelming at times if not well equipped.
Hiring the best childcare educators doesn't imply only having a qualification degree. If your employee fails to find the motivation in the daily responsibilities or tend to burn out easily, then they can seldom bring their best at what they do.
The Takeaway
Hiring the best childcare educators can be challenging. The number of candidates applying for childcare educators is decreasing day by day. For childcare center owners, this is not impressive news. To find the best candidates with fewer people applying for the job can be tough. However, steps like referral programs, providing the best career growth opportunities, and offering the right benefits will help you to attract the best childcare professionals.
Stay up to date on the latest company news from PREto3 and see what media outlets are saying about us